THE CHALLENGE
The Department of Homeland Security (DHS) owned the parcel # 46 of the former Naval Station Roosevelt Roads in Ceiba, Puerto Rico. They contacted us to perform a Feasibility Study to examine all information provided within the Statement of Work (SOW) as well as all supporting information to determine the possible uses for Parcel #46 in supporting the critical needs of the CBP mission through the CBP Marine unit operating in Ceiba, Puerto Rico.
S The Feasibility Study were three options of conceptual design incorporating all environmental and land-use restrictions imposed on the property. All the alternatives were complied with LEED Construction Gold Certification requirements. it also included the support facilities and structures required for the site including the marine use (e.g. parking, roadways, fencing, exterior lighting, etc.), the building infrastructure systems, such as electrical, fire, IT, phone equipment, security, and systems furniture components per CBP/OIT and CBP/IA data and physical security standard.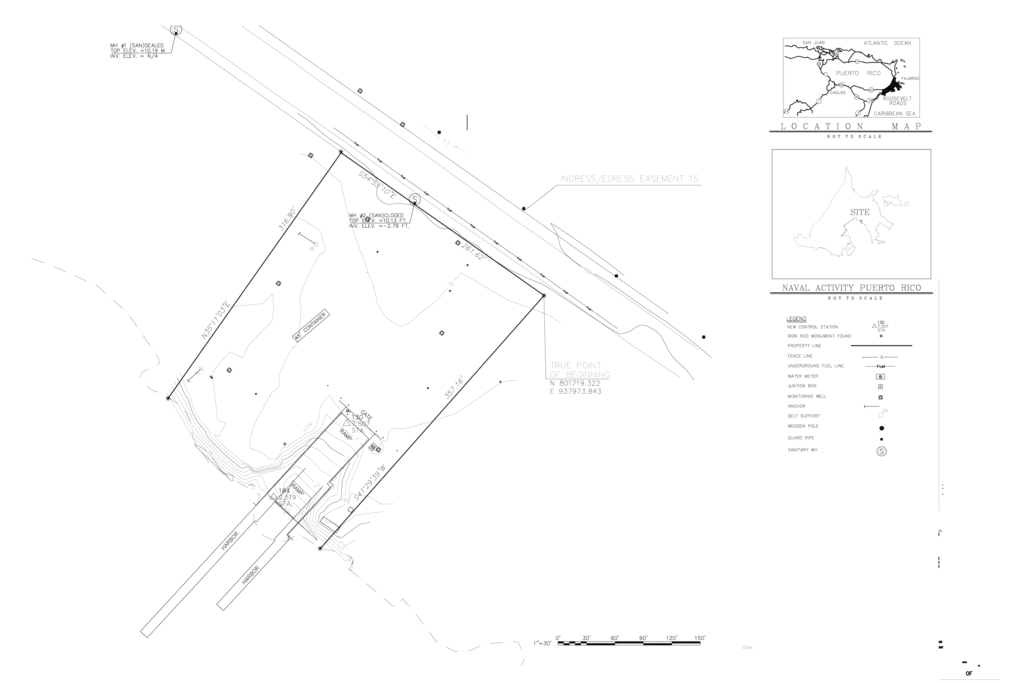 We provided a preliminary Table of Organization (TO) and Table of Equipment (TE)(otherwise labeled "Program Requirements"). And we performed a Geotechnical Study, a Phase 2 Environmental Site Assessment (Phase II ESA) of the property and a Topographical Survey identifying "as built" conditions. It also included environmental remediation costs in the overall construction budget. As part of the project an Investigation was also conducted on whether contaminated soils could be processed on the island, distance to travel to an approved dump site within the boundaries of the island, or whether unsuitable soils would need to be transported off the island and to the mainland United States for processing. We determined if utility and infrastructure capacity and/or availability in the surrounding area were sufficient for the needs of the new and larger facility. A possible site layout including location of the buildings/units, parking areas, site entrances, possible utility entrances to the site, security fencing, property lines and setbacks, etc. We worked in a detailed construction cost estimate, including an estimate of design costs. Within the cost estimate was included, separate detailed costs for any and all infrastructure extensions including but not limited to: electrical, mechanical, sanitary and storm sewer, water utilities, voice/data utilities and any other infrastructure necessary to complete the proposed project on the site.
All the alternatives were valuable for the project owner and were impressed how detailed were the designs and the reports. the designs and the reports were finished before the established schedule, which made us have a great relationshio with the client who was 100% satisfied.
"The project was finished in the timetable determined in the original evaluation. Without them we would not have been able to continue with the project"

–Alfonso Sacarello